FREE HEATED GRIPS, £750 ACCESSORY VOUCHER AND LOW RATE FINANCE

Reserve for £99
Don't hang around. Secure this Suzuki V-Strom 1050DE today. Benefits include:
UK wide delivery
Bike health check
Collect instore
Parts warranty
Full valet service

Suzuki
V-Strom 1050DE
FREE £750 GENUINE ACCESSORY VOUCHER
Reserve for £99
Don't hang around. Secure this Suzuki V-Strom 1050DE today. Benefits include:
UK wide delivery
Bike health check
Collect instore
Parts warranty
Full valet service
Description
The V-Strom 1050DE Tour comes with all of the incredible features and specifications of the V-Strom 1050DE but with added extras, including a Silver or Black Aluminium top case (38 litre capacity), Carrier plate for Silver or Black Aluminium top case, Silver or Black Aluminium side case set (37 litre capacity per case), Silver or Black Aluminium side case carrier set and Lock set (6pcs).

These new models offer you a choice geared toward your desire to explore different types of adventure. The V-Strom 1050DE has enhanced performance and control when exploring further on gravel and dirt with its 21-inch front wheel, longer travel suspension, bespoke ergonomics, greater ground clearance and gravel specific braking and traction control options and more. The V-Strom 1050 is engineered with a stronger focus on maximising comfort and enjoyment when riding long distances and on paved roads with its 19-inch front wheel, dedicated ergonomics, larger screen, bi-directional quickshifter and a host of other advanced electronic rider aids. If the V-Strom 1050 sounds more like your kind of Bike, rather than the 1050DE please click the link below, otherwise please scroll down to discover all the amazing features and benefits of owning a V-Strom 1050DE.
The new V-Strom 1050DE is powered by the latest iteration of Suzuki's distinctive, liquid-cooled, four-stroke, 90° V-Twin DOHC engine. The product of many years of development by a dedicated team of passionate engineers, this engine has long-enjoyed a reputation for delivering enjoyable character, power, reliability, and a great sound-track for your next adventure.
The V-Strom 1050DE takes advantage of wire-spoked wheels with aluminium rims to better endure the potential pounding when exploring trails and other rough surfaces. It also adopts a larger 21-inch front rim for greater stability and better control on gravel and flat dirt. Both wheels are shod with Dunlop TRAILMAX MIXTOUR tyres, which feature a semi-block tread pattern and custom-designed internal structure that delivers the solid traction and performance you want when exploring varied terrain and trails.
Suzuki's extensive collection of electronic rider aids were developed to assist and help you optimise performance, comfort and enjoyment to match your changing riding needs, preferences as well as difference weather and terrain. By making the V-Strom 1050DE feel more controllable, predictable, fun to use and less tiring to operate, these systems help you ride with greater satisfaction, confidence and peace of mind, whether touring for long distances, carrying gear, or leaving paved roads behind to explore new horizons and trails.
Choose between three different power output characteristic modes to best match varying riding conditions or your preferences. While all three ultimately deliver maximum engine output, finer control over the level of throttle response and torque characteristics when accelerating empowers you to ride with greater confidence and pleasure.
The V-Strom 1050DE uses a new custom 5-inch colour TFT display that features clearly legible information displays. The high-quality display keeps you fully aware of all the Bike's systems and settings and supplies vital real time operating status information. The tachometer does double duty as a programmable rpm indicator light that blinks when the engine reaches a pre-set speed, and another new function displays large pop-up alerts and warnings. Manual or automatic switching settings for the day (white) and night (black) display modes let you maximise visibility at any hour and in any riding situation.
For more info on this vehicle call our showroom on 01273020988.
Every effort has been made to ensure the accuracy of the above information but errors may occur. Please check with a salesperson.
Features
Suzuki Drive Mode Selector

Suzuki Intelligent Ride System

Bi-Directional Quickshifter
Sell or part exchange your bike
We value and buy motorcycles every day. You can trust us to give you a fair valuation for your motorcycle whatever condition it's in.
Colour

Glass Sparkle Black
Specification
Suzuki Drive Mode Selector

Suzuki Intelligent Ride System

Bi-Directional Quickshifter

Adventure Specific Screen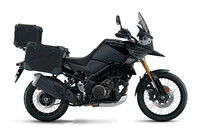 Suzuki V-Strom 1050DE FREE £750 GENUINE ACCESSORY VOUCHER